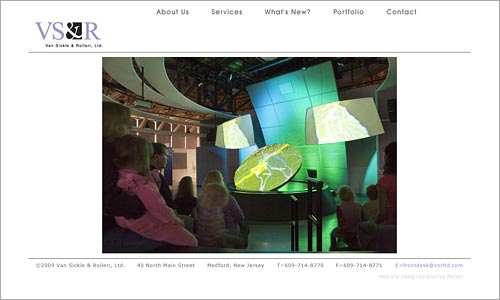 Van Sickle & Rolleri, LTD
Client: Van Sickle & Rolleri, LTD
Project: Company web site
Description: Web Site and online gallery for museum exhibits design firm
Services: Web site design, HTML, and CSS
The company needed a crisp, modern re-design for their corporate site, and an online gallery that effectively displayed their expertise in creating high-end exhibits for some of the nation's most prominent museums.
The multiple galleries and numerous images are accessed by clear, easy to use navigation. The images are displayed with a subtle cross fade and are accompanied by a brief description accessed by rolling the mouse over the image.
The galleries and individual image pages have been given a clear, easy to use navigation system that allows the viewer to select images by thumbnail, click through the full size images in order to select alternate galleries at any point.
The result is an elegant online gallery in which the company's work is displayed to best advantage.