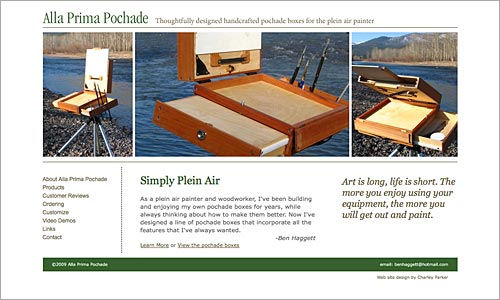 Alla Prima Pochade
Client: Alla Prima Pochade
Project: Web site re-design
Description: Web site for maker of fine artists' pochade boxes
Services: Web site design, HTML and CSS, Flash based image galleries, logo design
A web site to revitalize the brand and improve the online image of a maker of hand-crafted painting boxes for artists who paint "en plein air" (outdoors).
The site features rotating, animated Flash galleries that showcase the features of these beautiful and ingeniously designed portable painting studios.
The French Impressionists would have loved these painting boxes, mounted on a modern camera tripod for easy positioning and cleverly designed with torsion hinges and magnetic catches.
The site displays their benefits to contemporary painters, who must judge their design and quality from the images and description before ordering online.